THE THIRD FISHERMEN'S AND BOATMEN'S NIGHTS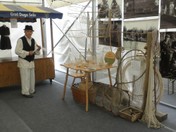 Publication date: 14.09.2014
On saturday the 13th of September 2014 in Rugvica near Dugo Selo the third consecutive ˝Fishermen's and Boatmen's nights˝ organised by the association of people who love the river Sava  ˝Boatman of Sava˝ took place.
Alongside the performances of many folklore societies an exhibition of traditional crafts was presented, which created great interest and thrilled numerous visitors, especially the older generations.

The whole program was hosted, as was last year, by Davor Dretar – Drele, and an excellent culinary team of  hosts was responsible for the gastronomy.

The rich tradition of national costumes could be enjoyed in the exhibition room ˝Etno˝.